Hello!

It is the last day to preorder PIVOT and save!  An autographed copy, 20% off, and shipped for free will be gone tomorrow.

Below is the final excerpt that I will be offering through my newsletter/blog posts. I am so proud of PIVOT: Empowering Students Today to Succeed in an Unpredictable Tomorrow, and I would greatly appreciate your feedback by means of the one question rating (see below).  Thanks, and as always, if you have any comments that you would like to relay to me directly, please reply to this email!

Best, Ravi Hutheesing
Rising Above Disaffection and Radicalism
(Excerpt from PIVOT, Chapter 9, "Uniting the World Through Music")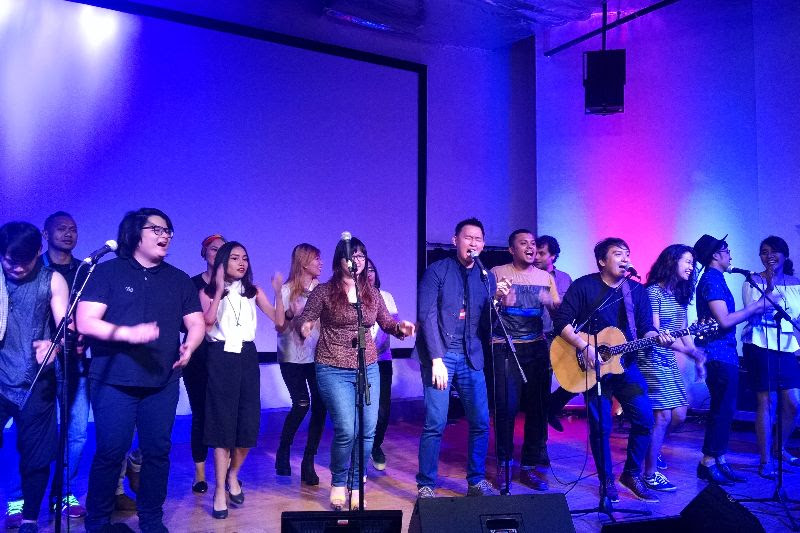 Ravi with his students in Jakarta Indonesia, preparing for their live performance at the American Center. India.
Chapter nine begins with the section below, and then goes on to explain, in detail, how to use the arts (music, culinary, etc.) to foster cultural competence. Ravi offers guidence for parents, teachers, and school systems, as it can be done in any school anywhere in the world.
On Friday, November 13th, 2015, Paris became the site of the deadliest terrorist attacks France had endured since World War II. The radical Muslim terrorist group ISIS coordinated a series of simultaneous assaults, sending suicide bombers and gunmen to a stadium, nightclub, and multiple restaurants and cafes. What made this especially barbaric was that the targets were French civilians who were killed at random. I was not in France at the time but knew a couple whose child was killed in the nightclub, and my in-laws were now living under a cloud of fear. Paris was still my second home, and no one was feeling safe outside their own door.
I woke up the next morning trying to wrap my head around what had happened. As it turned out, most of the terrorists were European citizens who had traveled to the Middle East and returned radicalized. Of course, this was not discovered until later, but the radicalization of European citizens was becoming more prevalent and frequently covered by international news.
I had not yet been to the Middle East, but after I traveled to Iraq and Lebanon nearly two years later, I began to understand through my students there how such brainwashing occurs. That insight led me to believe education is the only way to defeat it. A war on terror cannot just attempt to contain the violence. Much like socioeconomic disparity and racism, we must also defeat the ideology. At the time of the Paris attacks, I was only beginning to speculate about the role education could actively play in counterterrorism strategy.
Europe was experiencing a high level of radicalism, mostly among the rural and suburban populations. In France, the public education system had been focused on creating career pathways from an early age, and combined with a comparatively high unemployment rate, it seemed to me that this combination might be leading to a high number of disaffected youth. Many have likely been educated for jobs that are not available or will no longer even exist (which will become more commonplace in an age of artificial intelligence). Furthermore, the skills they have obtained may be less relevant to the vocations about which they are most passionate and which help form their identities. Add to this a high Muslim immigrant population, and grounds for radicalization seemed fertile.
Could this also happen in the United States? Radicalization, or extremism in any form, often stems from a lack of identity. It does not just have to be Muslim related or even religiously connected. There are also political extremism, white supremacy, anarchism, and others, some of which are on the rise in the USA. Moreover, there has been a push in public education to create a career pathways model that resembles European nations, and there has also been continued defunding of arts programs in schools and a strong push for STEM education (overlooking the value of STEAM). In fact, most of the world is currently moving away from "the middle" and in critical need of empathy and cultural competence. After learning about the tragedy in Paris, I asked myself, "Are we educating youth to rise above disaffection and radicalism?"
While my question was essentially rhetorical, I wanted to pose it to others so I could spark and engage personally in discussions to explore this further. I felt this topic was incredibly important, so I had to reach out to people who knew much more about this than me. The best way for me to learn something new has always been to put myself in a position where I would either become an expert or suffer embarrassment—this is potentially derived from my pilot mindset: learning something new and learning it well is generally the difference between life and death.
(The chapter now investigates how to create forums in schools to help students rise above disaffection and radicalism.)
Here are the first few "suggested pivots" at the end of Chapter 9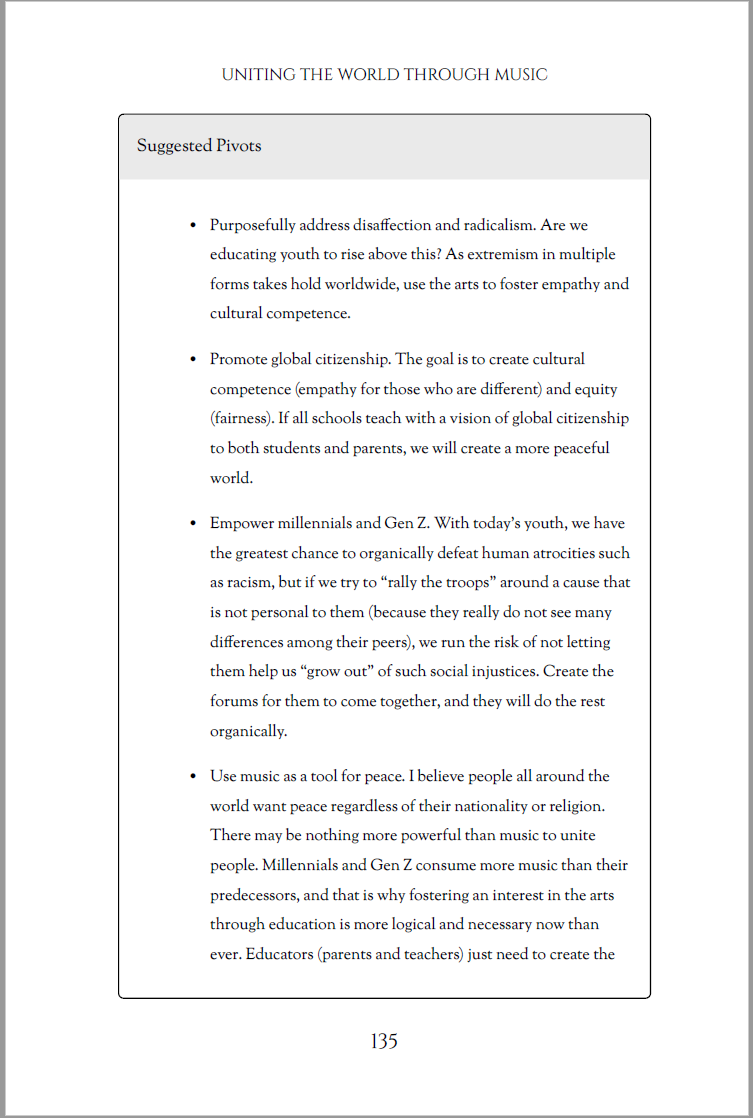 Want to book Ravi for your next event?  Contact US