Hello to our GWEN Family,

This has been quite the summer! We trust that you have had a safe, healthy, and fun time!

I can't believe that it's nearing the end of the year and we are upon our October month of bringing awareness to domestic violence and school bullying, which are recognized in the national calendars.

At GWEN, we are working day and night to provide programs, workshops, and more, so that we can continue to give a safe place for you to share your stories and to find a place to REVEAL TO HEAL.

We are proud to announce our inaugural REVEAL TO HEAL Summit partnered with Marriott Hotels, where we will launch in October in Phoenix Arizona. This is our first of a five year plan! Next up is Miami (2020) Kansas City (2021) Los Angeles (2022) and New York (2023).

Check out the update below and please find it in your heart to support our programs, or even sponsor a local woman in Phoenix who wants to attend the summit.

Thank you for your support and remember "the world is much better with you in it!"

Tess Cacciatore, Founder/CEO

Global Women's Empowerment Network WEBSITE

Join our facebook page

* * * * * * * * * *

Inaugural GWEN Reveal to Heal Summit 

October 11-13, 2018 at the Renaissance Phoenix Downtown Hotel

(100 N 1st Street, Phoenix, AZ)

For far too long, there has not been a central "hub" where people can connect and have their voices heard. Our Reveal to Heal Summit showcases powerful human stories and creates an open, honest dialogue addressing the social injustices that create too much anxiety and pain in our world today.

Sign up now for our inaugural annual event in Phoenix, AZ, and be a part of our #Reveal2Heal social revolution!  Our three-day Summit includes a full agenda of interaction, entertainment and facilitated workshops focused on healing through storytelling.

In fact, have you ever considered publishing your memoir? Or, would you want to record a song or create a movie that tells your story? GWEN will have professional resources available to help take your tale to the next level. After all, everyone has a story and everyone's story has value.

Annual GWEN Luminary Awards Gala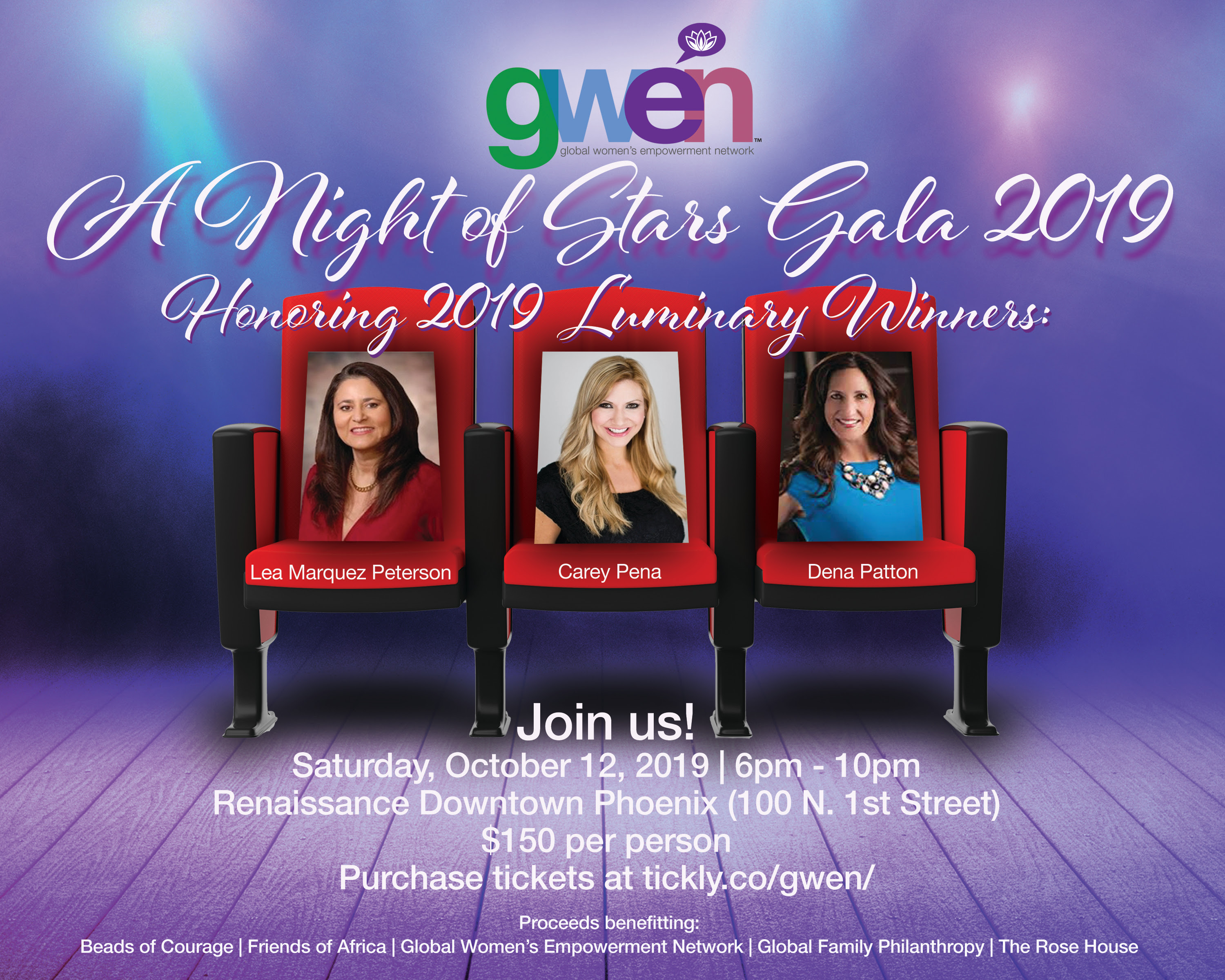 Our annual GWEN Luminary Awards Gala promises to be a highlight of the Summit weekend. All Summit attendees, GWEN VIPs and guests will enjoy a beautiful evening under the stars, on the rooftop of the Renaissance, for an elegant evening of comradery and celebration. We will be shining a spotlight on three local charities that contribute endless time and energy on important social causes: Friends of Africa; Global Family Philanthropy; and the Rose House Charity. Then, to top off the evening the 2019 GWEN Luminary Awards winners will be announced. This prestigious honor recognizes organizations and individuals who have made a positive impact in the world.
Registrations are limited for the Summit and the Gala 
Registrations for the full-weekend Summit are limited. Individual tickets are $525, which includes the Gala dinner on Saturday night. Also, GWEN is offering opportunities to donate a Summit registration, which is 100% tax deductible and GWEN provide the gifted tickets to low-income individuals in the Phoenix market area.
In addition to Summit participants, VIPs and special guests of GWEN, the Gala also is open to the public. Individual seats are $175 each, and a table of eight can be purchased for $1,300. Special table pricing is available for Non-profit organizations at $1,100.
For more information you can go to:  https://gwen.global/gwen-events/
LINK to GWEN Luminary Awards page:
LINK TO SUMMIT AGENDA AND TICKETS PORTAL:
More GWEN News . . . 
Campus Safety with the GWEN Alert Safety App
Check out our Campus Safety GWEN Alert video for back-to-school peace of mind, and be sure to download your FREE GWEN Alert on your smartphone today! Our award winning safety app is available at the App Store and Google Play.
LINK TO APP DOWNLOADS:  iTunes  Google Play
GWEN and Peace Angels
Global Women's Empowerment Network is partnered with Peace Angels Project, created by Lin Evola. Pictured here are city elected officials, supporting the build of the 64 foot monument, along with 12 other 11 foot monuments to be installed throughout Los Angeles, our City of Angels.