Dear Neighbor:
This week I'm in Albany with my colleagues in the Senate and Assembly passing legislation responsive to the COVID-19 pandemic. Below I've highlighted four bills we'll be passing this week for which I am the prime sponsor, but there are dozens of others we'll be passing as well, including: a moratorium on terminating utility services during a pandemic; requiring a Department of Health study on the health impacts of COVID-19 on minority New Yorkers; temporarily suspending the forfeiture of unemployment benefits; enhancing whistleblower protections for health care workers; and providing up to $100 million in rental assistance vouchers for tenants who experience an increase in rent burden due to a loss of income as a result of COVID-19.
Strengthening New York's Anti-Price Gouging Statute
New York's anti-price gouging law is an important protection for consumers during periods of emergency. During the COVID-19 pandemic the NY Attorney General has received almost 6,000 complaints of price gouging and has issued more than 1,500 cease and desist orders against bad actors who were charging excessive prices for products like hand sanitizer, disinfectant sprays and rubbing alcohol. My new bill with Assembly Member Nily Rozic (S.8189/A.10270) will increase the penalties for price gouging to up to $25,000 per violation and expand the anti-price gouging law beyond consumers to cover instances where New York State or hospitals are the victims of the price gouging.
Extending the Child Victims Act Lawsuit Revival Window
Passing the Child Victims Act was one of my proudest accomplishments last year. One of the cornerstones of the CVA is the one year revival window for survivors of child sexual abuse to file otherwise time-barred lawsuits. The original window is scheduled to close this coming August, but because New York's courts shut down amid the COVID-19 pandemic, at least two months of the window have been lost. My legislation with Assembly Member Linda Rosenthal (S.7082/A.9036) will extend the window for a full year to August 2021. I know from years of working with child sexual abuse survivors that it often takes a tremendous amount of time, courage and emotional energy to take the steps necessary to confront one's abuser in court. Giving survivors another year is only fair given the disruption that the COVID-19 pandemic has caused in all of our lives, and is consistent with other states that have recently enacted similar laws with multi-year windows, including California, New Jersey, North Carolina, and Hawaii.
The Tenant Safe Harbor Act
Tenants across the State are currently protected from eviction thanks to an Executive Order issued by Governor Cuomo, but that moratorium will end on June 19 and tenants facing financial hardship may soon find themselves facing eviction for rent they were unable to pay between April and June. My bill with Sen. Liz Krueger and Assembly Member Jeffrey Dinowitz, the Tenant Safe Harbor Act (S.8192-B/A.10290-B) will prohibit courts from evicting residential tenants who have suffered a financial hardship for non-payment of rent that accrues during the COVID-19 covered period.
Expanding Access to a Future COVID-19 Vaccine
The scientific community is hard at work developing vaccination for COVID-19. In the meantime, we should do all that we can to ensure that once a safe and effective vaccine exists, it's made as available to New Yorkers as possible. My legislation with Assembly Member Amy Paulin (S.8182-A/A.10508-A) authorizes pharmacists to administer a COVID-19 vaccine approved by the FDA upon the certification of the New York State Dept. of Health and the State Education Dept. For many New Yorkers, especially those in low-income communities, pharmacists are a primary point of contact with the health care system. By allowing pharmacists to administer the vaccine once it's available we'll help ensure as many people receive its protections as possible.
Here's some additional resources and information from my office:
Make-a-Mask Competition
Working Toward a New Albany Virtual Town Hall with the New Pride Agenda
Virtual Teens Take The Met
COLCORONA Clinical Trial for COVID-19
All New Yorkers Can Now Vote By Mail
COVID-19 Constituent Resource Guide
My office is here to help: call our voicemail at 212-633-8052 or email me directly at Hoylman@NYSenate.gov.
Sincerely,

Make-a-Mask Competition
Kids (and kids at heart!) in the 27th Senate District are invited to design your own fun and fashionable masks that match the CDC's guidelines for facial coverings. We'll convene an all-star panel of New York City fashion experts to pick the top three masks. Take a photo and share it with us on social media using the hashtag #MakeAMaskNYC.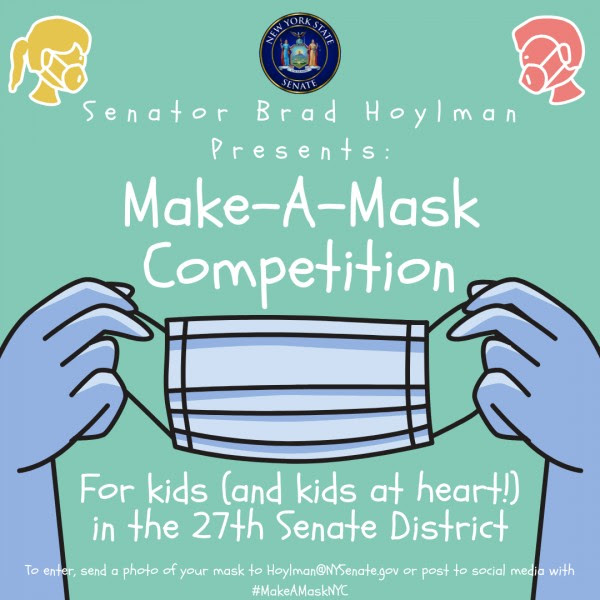 Working Toward a New Albany Virtual Town Hall with the New Pride Agenda
In the era of COVID-19, even the act of legislating has to be rethought: how do we meet and vote on bills without congregating? Everything from our healthcare system to housing, education system to employment policy has to be rethought and New York has the opportunity to be a leader on these issues as our country deals with the effects of COVID-19. Please join me, my colleagues Senator Salazar and Assemblymember Glick, Kyle Ishmael, and Samy Nemir-Olivares tomorrow, Wednesday May 27th at 7pm for a wide-ranging discussion on what comes next for Albany. RSVP HERE
Virtual Teens Take The Met
Join The Met on Instagram and all over social media for the first-ever Virtual Teens Take The Met! Follow along on the @metteens Instagram account and across their partners' social media platforms for art-making activities, performances, music, and more. Discover what you can do with over 30 New York City cultural and community organizations. Event is on Friday, May 29th from 11am to 8pm.
Sign up now and receive exclusive virtual content you can use on social media during the event!
COLCORONA Clinical Trial for COVID-19
NYU Langone is conducting an NIH-funded COVID-19 trial in our district. The study investigates whether daily short-term treatment with colchicine—a generally well-tolerated, FDA approved drug—can prevent hospitalization, lung complications and death.
There are 40 New Yorkers signed up so far. Your participation means our researchers have the best science available to them to ensure viable treatments can proceed quickly to those who need them.
Patients must be at least 40 years old, recuperating at home and have one risk factor for developing severe progression. The study is conducted remotely and the participant need never leave the home. Any potentially eligible participant can call a 24/7 toll-free study hotline 1-877-536-6837 within 48 hours of learning they may have COVID. Or consult your physician and refer them to www.en.colcorona.net.
All New Yorkers Can Now Vote By Mail
Governor Cuomo announced the Board of Elections will be mailing every registered voter a postage-paid application for an absentee ballot. By submitting an absentee ballot by mail, you can exercise your civic duty while remaining safely at home. I co-sponsored legislation to make absentee voting widely available during a pandemic, and am glad to see this Executive Order will help to make that a reality. I will also keep fighting with my colleagues in the Senate to ensure we have a constitutional amendment that permanently expands access to voting by mail.
To vote absentee, you must complete the application for an absentee ballot before June 16th. You don't have to wait for the Board of Elections to send it—you can call 1-866-VOTE-NYC right now to request a postage-paid application, or submit the application online at https://nycabsentee.com/. You must check "temporary illness or physical disability" as the reason you are requesting an absentee ballot. Once the ballot is mailed to you, you must return it to the Board of Elections before Monday, June 22—the day before the primary election. To learn more, visit the NYC Board of Elections website.
Here are some answers to frequently asked questions about the absentee ballot process.
How do I vote absentee?
You can only cast an absentee ballot if you apply beforehand. You can apply online at www.NYCAbsentee.com or by phone at 1-866-VOTE-NYC (1-866-868-3692). All registered voters in New York will also receive a paper application in the mail from the Board of Elections, which you can fill out and return by postal service. After you apply, the Board of Elections will send the absentee ballot to you in the mail. You should fill it out and mail it back as soon as possible to ensure your vote is counted.
What are the deadlines to make sure my vote is counted?
June 16 is the last day to send in your application for an absentee ballot. To guarantee you receive an absentee ballot, your application must be postmarked, emailed or faxed to the Board of Elections by June 16th.
June 22 is the last day to send your completed ballot back to the Board of Elections. Absentee ballots must be postmarked by June 22 and received by the Board of Elections before June 30.
June 23 is Election Day. This is the day you are able to vote in person, and your final opportunity to deliver your absentee ballot to the Board of Elections in person. If you are a senior citizen or immunocompromised, I encourage you to stay safe by mailing your absentee ballot instead of submitting it in person.
If I've temporarily relocated because of COVID-19, can my absentee ballot be delivered to my temporary location?
Yes. Absentee ballots are always available for registered voters who are traveling or unavailable on Election Day. When you apply for an absentee ballot, you will be able to provide the appropriate mailing address for your absentee ballot. Your voter registration in Manhattan will not change, no matter where you request an absentee ballot be mailed.
I've already applied for an absentee ballot. When will my ballot come in the mail?
The Board of Elections will begin sending absentee ballots this week. If you are worried you have not received your ballot yet, call the Board of Elections directly at 1-866-VOTE-NYC (1-866-868-3692) or email my office for help.
COVID-19 Constituent Resource Guide
As always, my COVID-19 Constituent Resource Guide is being continuously updated. Click here to learn more:
Albany Office:
310 Legislative Office Bldg
Albany, NY 12247
518-455-2451
Fax: 518-426-6846
District Office:
322 Eighth Ave, Suite 1700
New York, NY 10001
212-633-8052
Fax: 212-633-8096
See Full Newsletter !